Fenway Park Seating Chart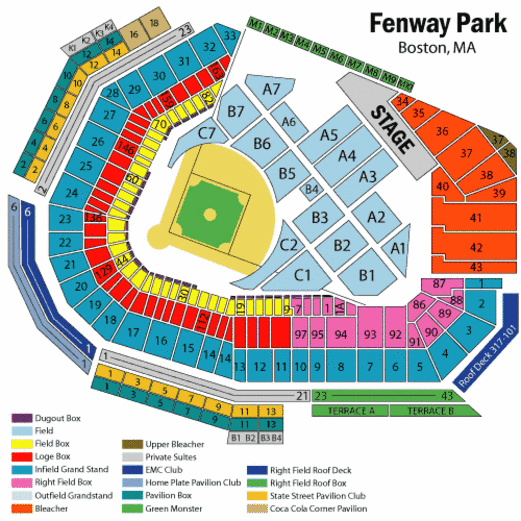 Fenway Park has a seating capacity of 37,281 during the day and 37,731 at night. Seating is split into 5 pricing tiers across several sections including The Field Box, Loge Box, Budweiser Deck Tables, Pavilion Box and Pavilion Reserved Box, Bud Desk Barstools, Infield Grandstand, Right Field Box, Right Field Roof Box, Right Field Terrace, Outfield Grandstand, Bleachers, Upper Bleachers, Right Field Roof Box Standing Room, Pavilion Standing Room, and General Standing Room.
Wheelchair spaces can be found in the in the Grandstand, Bleacher, Green Monster, Right Field Roof Deck, Loge Box, Infield and Right Field Roof Box and Dell Technologies areas.
Guests are asked to find their way to their correct seat numbers and not to switch seats on the day of the game or show, as this will cause confusion amongst members of the audience. If you have any difficulty locating your seat, please ask a member of staff who will be only too happy to assist you.